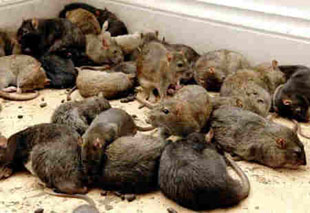 Welcome to Perdue Exterminators, a humane, eco-friendly rodent pest control company. We operate throughout Southwest Virginia. Local homes and businesses have trusted Perdue Exterminators to offer rodent control that works.

DON'T WAIT FOR A RODENT INFESTATION TO BECOME A PROBLEM
If you've noticed rodents like mice (or worse, rats) crawling and scuttling about, whether at night or during the day, you should call us as soon as possible. Don't give those mice time to reproduce and turn into your own personal plague. 

HUMANE AND ENVIRONMENTALLY RESPONSIBLE RODENT CONTROL
At Perdue Exterminators, we specialize in all of the traditional rodent control methods, but we also offer some of the most green-friendly, cutting-edge rodent control tactics. These include baits and traps that don't use toxic poisons.

THEY MAY LOOK CUTE, BUT THEY ARE A MENACE!
Mice and rats may appear to be small, harmless animals, but they can all too quickly become a health hazard. Call us for responsible rodent control today.